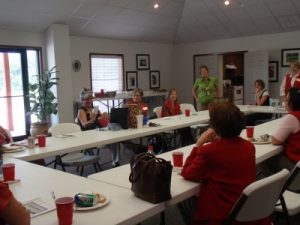 We want to give you a warm welcome from the Livingston - Polk County Chamber Ambassador Group!  We are looking forward, with great anticipation, to a new year of events and changes that will be taking place in 2020.  We would like to let you know a little bit about what the Ambassador Group.
Ambassadors are a special group of people that volunteer their time and extend a hand of kindness to the community in so many ways.  They are made up of men and women that with, great enthusiasm, extend their friendship to current and prospective members.  They love to encourage new memberships, help with networking, as well as, boost participation and involvement in Chamber programs.  They are the friendly face of the Chamber that welcome people at every event.
Ambassadors have a great responsibility in the Chamber.  They welcome people in the community to become members of the Chamber and encourage renewal of current members.  They stay up to date with current changes by attending monthly Ambassador meetings and lend a great support to members by attending ribbon cuttings, business after hours, and all networking opportunities of the Chamber.
We are looking for volunteers that are interested in helping local businesses connect and prosper in the community.  If you have a little spare time and would like to help the Livingston - Polk County Chamber of Commerce we would love to welcome you to be an Ambassador.  Please don't hesitate to contact me or any of the Ambassadors.  We would love to talk to you and answer any questions you might have about the Chamber or becoming an Ambassador.
Thank you,
Mike Shukan, MD
2020 Ambassador President