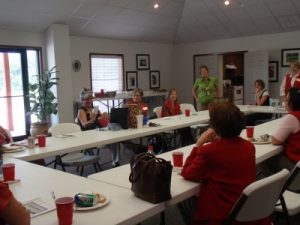 Greetings from the Livingston Polk County Chamber of Commerce Ambassadors.
The Chamber Ambassadors are the most highly visible volunteers of the Chamber of Commerce.  They function as the Chamber's customer service department and make multiple contacts monthly promoting the organization to members and future members.  Ambassadors also find that their involvement brings their company greater visibility.  This group of men and women support each other and encourages new friends and members.  They have a passion for networking, inviting new members and inspire others to participate and become involved with the Chamber of Commerce.
Ambassadors have a great responsibility and are the workforce in the Chamber.  They welcome people in the community to become members of the Chamber and encourage renewal of current members.  They stay up to date with current changes by attending monthly Ambassador meetings and lend a great support to members by attending ribbon cuttings, business after hours, and all networking opportunities of the Chamber.
The Livingston-Polk County Chamber of Commerce Ambassador Group always welcome new volunteers that are motivated to help local businesses connect and grow our community in all aspects of business.   Please do not hesitate to contact the Chamber of Commerce office or any of the Ambassadors for information about how you can be a part of such a wonderful and special group. We would love to answer any questions you might have about the Chamber or becoming an Ambassador.
We are here to help.
Thank you,
David Burns
2022 Ambassador President
David Burns, President                        Alyssa Tolar, Vice President                       Amber McCarthy
Bambi Manning                                    Barbara Justice                                             Cindy Snook
Colleen Provasek                                   Christina Wood                                            David Martin
Evelyn Rogers                                         Heidi Barnes                                                 Irene Goins
Jared Jernigan                                        Jennifer Gage                                              Jessica Andreas
Joshua Ureke                                          Joyce Knierim                                              Judy Ebert
Katheryn Hall                                          Kaycee Hendrix                                           Kim Brown
Kimberly McCroskey                             Kirk Neal                                                        Madison Bland
Mandy Wilson                                         Matt Anderson                                             Melinda Sullivan
Mike Shukan, MD                                   Rachel Deason                                             Ruby Monteaux
Shirley Johnson                                      Toahani Williams