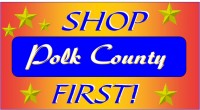 Daily Referrals:  The chamber Information and Visitor Center promotes your business to callers, visitors and emails.
Brochure Display Rack:  All members are able to display their brochures or business cards in the Chamber Information and Visitor Center.
In House Brochures:  The chamber develops brochures that are printed in the chamber office with listing of members in categories for easy access to help make member's names & info available to the public.
Ribbon Cutting, Anniversary and Groundbreaking Ceremonies:  Celebrate your event with the help of the Chamber.
Sponsorships:  Your Chamber has opportunities for members to sponsor activities throughout the year including BAH, Special Events and chamber produced community events.
Chamber Website:  The website was developed to give visitors information about the community and members, with links to members websites and email addresses free of charge.
Advertising Opportunities:  Members are given opportunities to advertise in several outgoing publications sponsored by the Chamber. Such as: newsletter, maps, magazines, ect.
Conference Room:  The Chamber board elected to offer the Chamber conference room free of charge to Chamber members during regular business hours for business and civic activities such as meetings, seminars, conferences and training once a month.
Special Events and Fundraisers:  Annual Awards Banquet, Shop Local, BBQ Cook-Off, Pumpkin Patch, & Come Clean Lake Livingston - events and fundraisers may vary.
Tourism Development and Promotion:  The Piney Woods Lakes Chapter of Texas Master Naturalist (includes Polk, Tyler, and San Jacinto Counties). They also serve as the Chamber Eco-Tourism Committee. Lake Livingston State Park -- partner in joint effort to develop the State Park to its full potential. Family Fall Festival -- joint project with Texas Agri-Life (4H) to provide information for parents and families in a supportive/entertaining environment.
Business Development and Network:  Quarterly Membership Luncheons, Learning Lunches, WINOs (Women Interested in Networking Opportunities), Business After Hours and other business networking opportunities are available.
Additional Benefits are added at various times throughout the year.